フィナンシェと紅茶の器
porcelain for financier & tea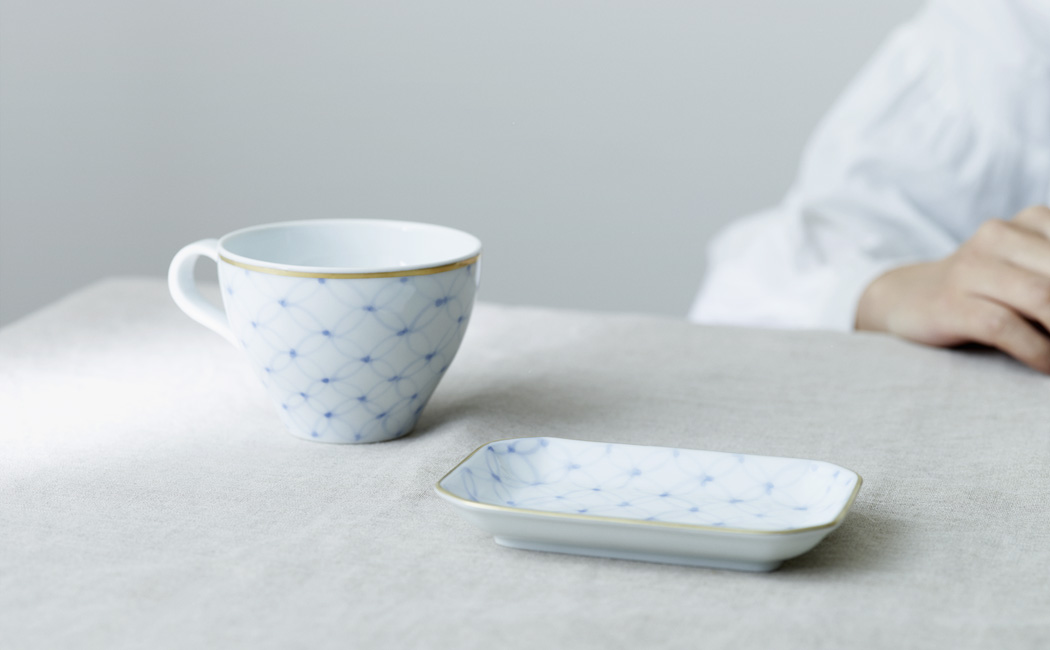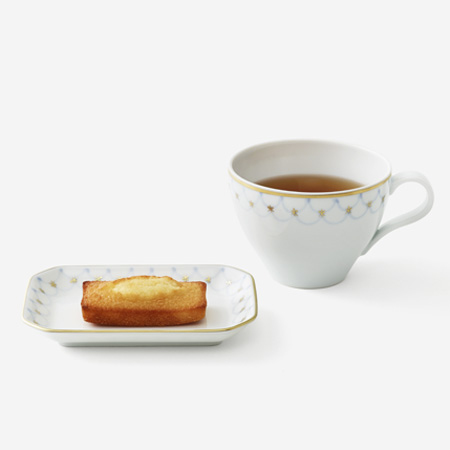 一息つく大切な時間を丁寧に過ごしたい人へ、ちょっとしたスイーツとたっぷりの紅茶をゆるりと楽しむ「フィナンシェと紅茶の器」をひとつひとつ心を込めて手描きで作りました。
"porcelain for financier and tea" is specially made for you to have precious relaxing time and enjoy small sweets with a big cup of tea. Products are hand-painted one by one with special care.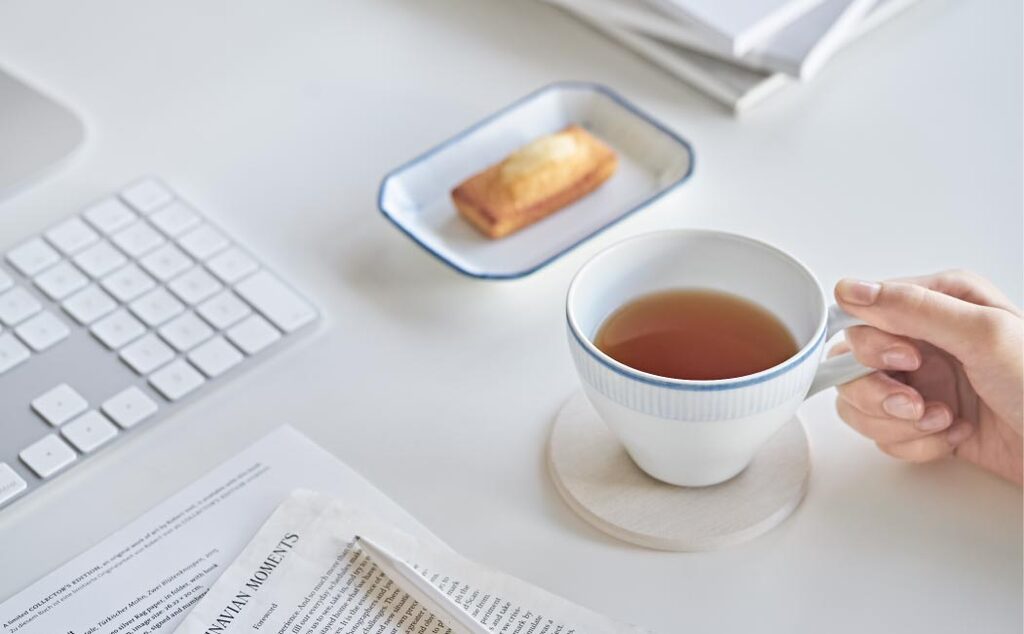 スイーツをお皿にのせて、いつもの休憩を特別な時間に。たっぷり入る紅茶の器で温かさを感じながらほっと一息つくのはいかがでしょうか。
Your regular tea time is magically transformed when a sweet treat is placed on this plate. What would you say to a warm cozy break with a satisfyingly full cup of freshly brewed tea?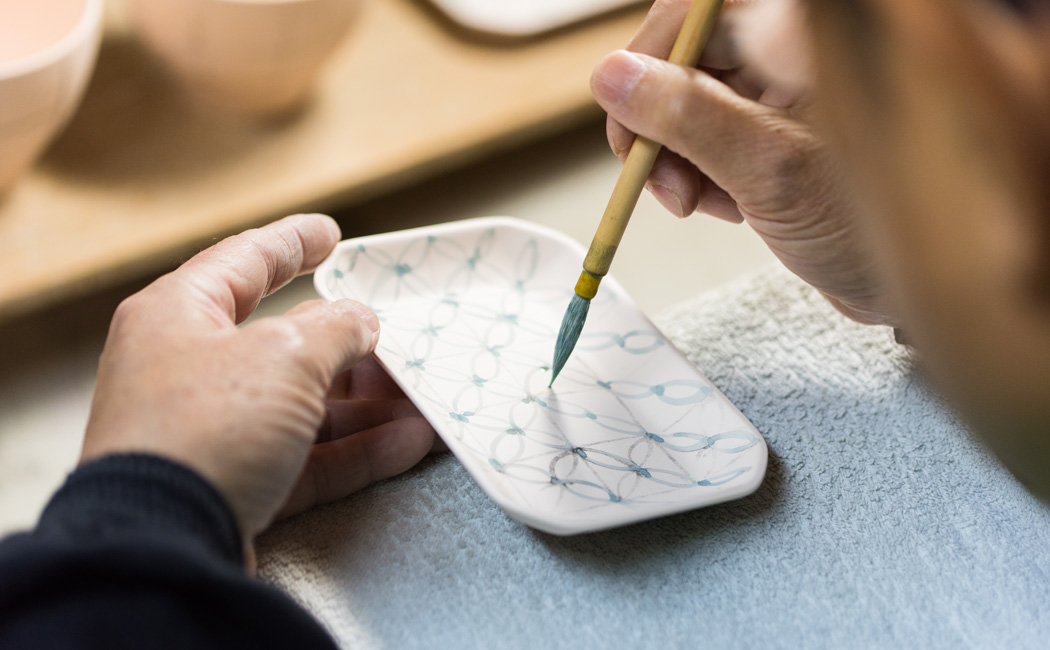 「波」「七宝」「麻の葉」といった古くから縁起の良い模様とされる吉祥文様をベースに、ひとつひとつ心を込めて描いた、優しくみずみずしい絵付けの表情をお楽しみください。
*手描きの為、絵柄や濃淡など個体差があります。予めご了承ください。
Paintings are based on Kissho monyo, or Japanese traditional auspicious motifs, such as nami (wave), shippo (seven treasures), and asanoha (hemp leaves). You can enjoy individually hand-painted motifs that have soft and lively nuance.
*Please note that each one is hand-painted so the pattern and the shades are individually different.

七宝 shippo
円満を意味する円形を重ねた吉祥文様 「七宝」を柔らかな印象に描いています。
Shippo (seven treasures), an auspicious motif of intersecting circles that symbolizes harmony with a soft touch.

波 nami
平穏な日々を祈る吉祥文様「青海波」に浮かぶ星をモチーフにした柄です。
The pattern depicts stars floating in the Seigaiha (wave), an auspicious motif for a peaceful life.

麻の葉 asanoha
成長を願う吉祥模様「麻の葉」を柔らかく華やかな印象に描いています。
Asanoha (hemp leaves), an auspicious symbol bringing good health and personal growth with a soft and elegant touch.


縞 shima
定番の「縞」模様を繊細なタッチで描いたシンプルなデザインの柄です。
Simple designed pattern of a classic stripe with a delicate touch.
cup size : φ95×d.120×h.68mm
plate size : w127×d.87×h.18mm
material : porcelain
Made in Japan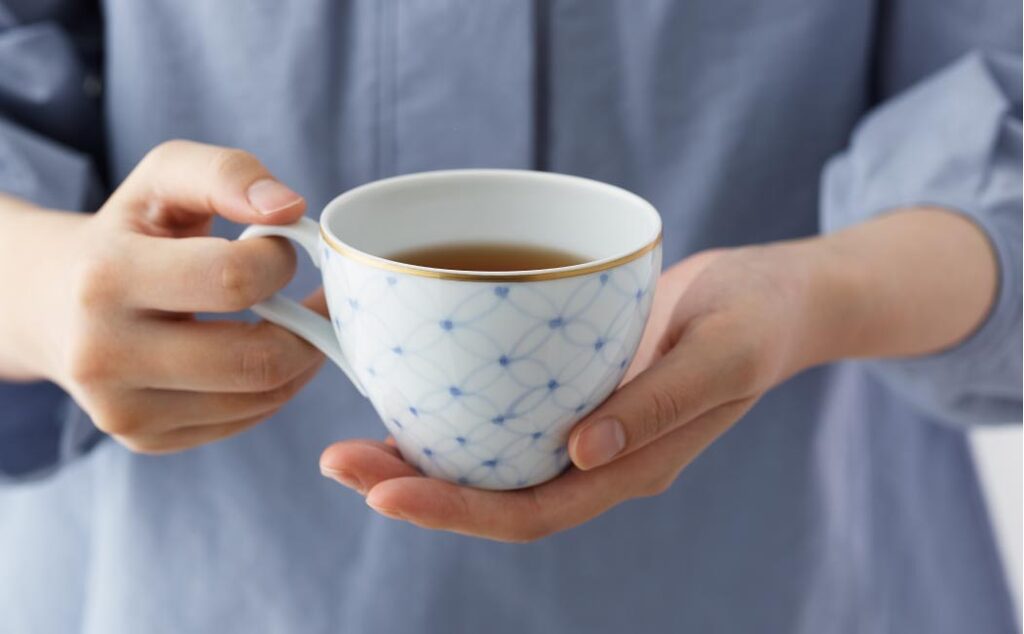 お茶の温かさを感じながら手でコロンと包み込むように持てる形がなんとも愛らしいです。
It's simply delightful to be able to cup your hands around your tea cup and be slowly warmed by the tea within.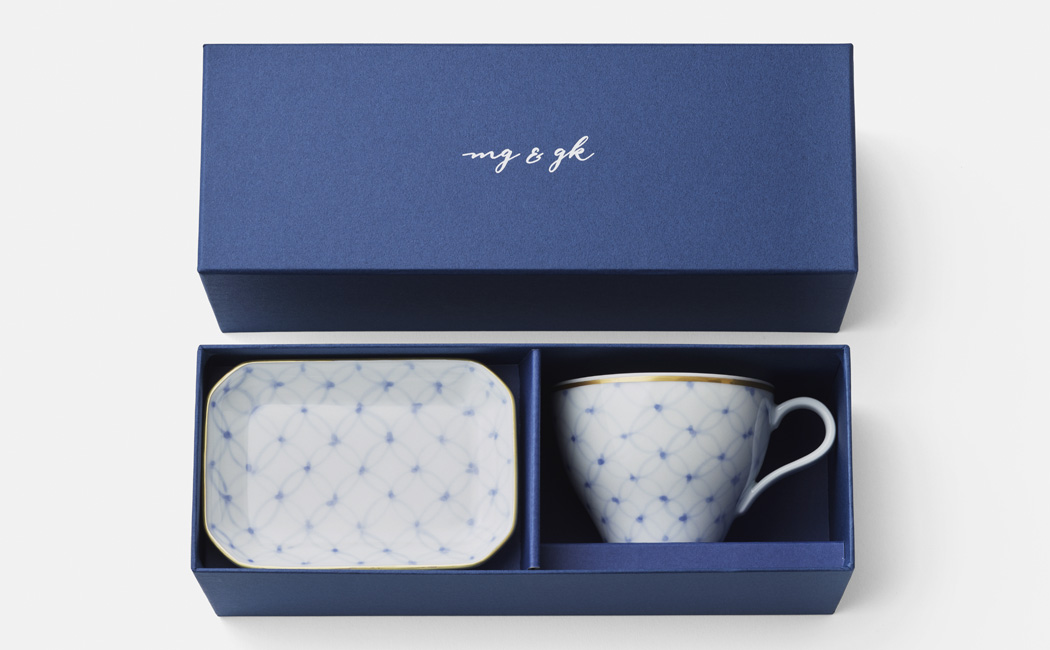 「フィナンシェと紅茶の器」のセット用パッケージ
Gift set package for "porcelain for financier and tea"

creative direction & product design : Shizuka Tatsuno Studio